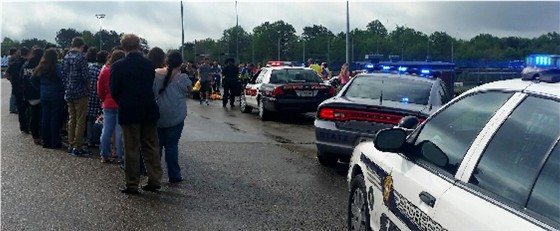 Laurel County, KY - Sheriff John Root is reporting that: The Laurel County Sheriff's Office participated in a mock DUI involved traffic crash at North Laurel High School on Thursday morning April 28, 2016.
The event was coordinated by Christie L. Shrader- Laurel County Agency For Substance Abuse Policy Board Coordinator and North Laurel High School Youth Service Center director Cindy Durham.
Ambulance crews and police re-enacted the procedure for extracting a patient and investigating a traffic crash, concluding with the arrest of a driver for DUI .
The mock rescue operation was an effort by multiple law enforcement agencies, and the ambulance service, to make students aware of the dangers of impaired driving prior to prom night. "A visual display sometimes works a lot better than a lecture," Sheriff Root said about the simulation. "Seeing all that stuff can be very powerful."
While the rescue attempt occurred, officers conducted an investigation with the mock drunk driver and performed several alcohol tests. The probe concluded with an arrest for DUI.
Afterwards, students returned to the school's auditorium where a mock trial and sentencing was conducted.
If the mock car crash had been real, one student would be dead, another would be critically injured and another would be in jail.
Agencies and individuals involved included:
Laurel County Sheriff's Office: Deputy Gilbert Acciardo, Kentucky State Police: Trooper Lloyd Cochrane, London City Police: Sgt Travis Dotson, Ambulance Inc. of Laurel County, Laurel Service Center, Laurel County Attorney J.L. Albright, Laurel Circuit Judge Danny Evans, and Kara Ottis from the Public Defender's Office.