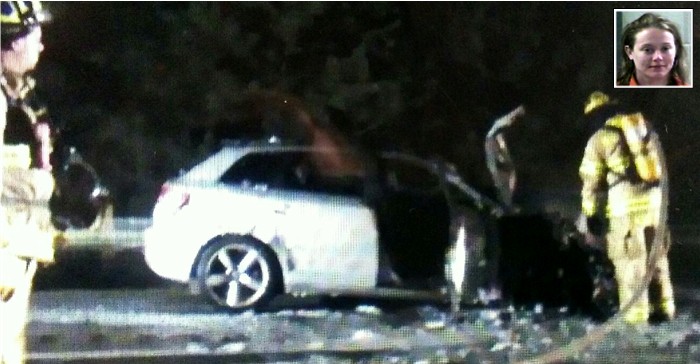 Laurel County, KY - Sheriff John Root is reporting that: Sgt. Larry Parrott along with Deputy Shawn Jackson arrested Jessica Pryor age 36 of Southern Hills Dr., Richmond, KY on Tuesday night June 21, 2016 at approximately 11:10 PM.
The arrest occurred on I– 75, approximately 7 miles south of London after this subject who was allegedly driving a silver colored Audi A3 was involved in a non-injury traffic crash where her vehicle apparently rear-ended a 2012 Chrysler 200 series. After the collision, the Audi then struck a guardrail and caught fire.
Witnesses at the scene advised that this driver refused to exit her vehicle even though it was on fire and had to be pulled from it. Deputies noted that this subject was very unbalanced and had slurred speech and red bloodshot eyes that were non-reactive to light.
An investigation was conducted and this subject was determined to be under the influence – this subject admitted taking methadone earlier. This subject passed out several times while in custody of deputies because she was so intoxicated.
The interstate southbound was closed over one hour due to this collision.
Jessica Pryor was charged with operating a motor vehicle under the influence – first offense; careless driving; failure of owner to maintain required insurance – first offense; and other traffic violations and was lodged in the Laurel County Detention Center.
Inset photo of accused attached is courtesy of the Laurel County Detention Center.
Photo of crash site provided by Deputy Shawn Jackson.
West Knox Volunteer Fire Dept. assisted at the scene by extinguishing the fire.