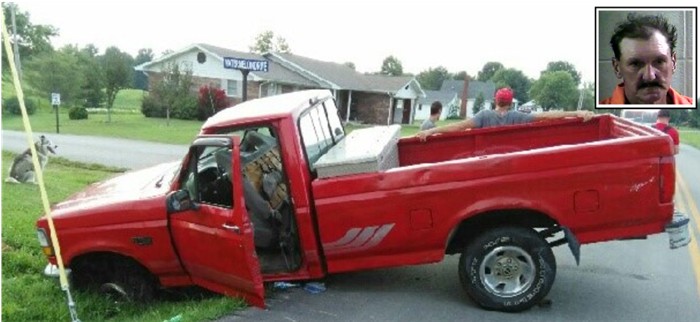 Laurel County, KY - Sheriff John Root is reporting that: Deputy Brandon Broughton arrested Walter Kemper age 54 Of Bentley Rd., London on Monday night August 1, 2016 at approximately 7:46 PM.
The arrest occurred on Keavy Road, approximately 2 miles south of London after Deputy Broughton was dispatched to a complaint that a red Ford F-150 pickup and ran off the road into a ditch line and had blown a tire.
When Deputy Broughton arrived at the scene he located the truck in the ditch with the rear end of the vehicle out in the roadway. The driver was not at the scene initially, but walked back to the scene while Deputy Broughton was conducting his investigation.
Deputy Broughton detected a strong odor of alcoholic beverages emitting from this subject and learned that this subject had apparently been drinking beer and had taken Percocets earlier. This subject stated he had been drinking beer and knew he shouldn't have been driving.
Deputy Broughton determined that this subject was under the influence. Walter Kemper was charged with operating a motor vehicle under the influence – first offense; leaving the scene of an accident; and numerous other traffic violations and was lodged in the Laurel County Detention Center.
Crash scene photo provided by LSO.
Inset photo is courtesy of the Laurel County Detention Center.