Harrodsburg resident takes top honor
FRANKFORT, Ky. – Twenty-four civilian employees were honored Wednesday by the Kentucky State Police at a ceremony highlighting their performance and public service during the past year.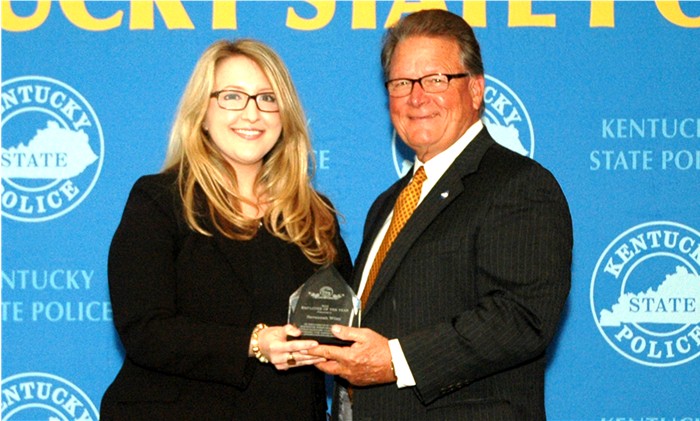 Harrodsburg resident Savannah Wiley, Fiscal Manager, Kentucky State Police Financial/Grants Management Branch, received her Civilian Employee of the Year award from KSP Commissioner Rick Sanders on October 12, 2016. Wiley is the daughter of Harry and Jane Wiley of Harrodsburg.
Harrodsburg resident Savannah Wiley was named 2016 KSP Civilian Employee of the Year. A four-year veteran of the agency, Wiley is a fiscal manager in the accounting section of the Financial\Grants Management Branch at KSP headquarters in Frankfort.
Wiley was recognized for her efforts in establishing a more effective procurement process and developing contacts and relationships with the Kentucky Finance and Administration Cabinet, which made contract creation easier.
"Savannah has an incredible work ethic and has on many occasions taken on tasks that were not her responsibility to ensure things ran smoothly," said Ron Parritt, manager of the KSP Financial\Grants Management Branch. "She has yet to disappoint in anything she does."
Other KSP civilian employees who received awards included:
Administrative Support Service Award
Michael Morrison, Systems Engineer IT, Public Affairs Branch
Savannah Wiley, Fiscal Manager, Financial/Grants Management Branch
Administrative Support Supervisor Award
Amanda Cloyd, Manager, Human Resources Branch
Clerical Support Service Award
Beverly Newsome, Administrative Specialist III, Post 8-Morehead
Cathy Meade Administrative Specialist III, Post 1-Mayfield
Monica Hardin, Administrative Specialist III, Criminal Identification & Records Branch
Commercial Vehicle Support Award
Melinda Howard, Administrative Specialist II, Region 3-Georgetown
Lonnie "Russell" Holbrook, CVE Inspector II, Region 5-Morehead
Driver Testing Administrative Support Award
Terry Stevenson, Certified Driver's Test Administrator I, East Region
Wynne Russell, Administrative Specialist III, West Region
Forensic Services Support Award
Forensic Laboratory Supervisor: Whitney Collins, Forensic Laboratory Supervisor,
Central Laboratory Branch - Frankfort
Laboratory Analyst: Zachary "Joey" Wiley, Forensic Chemist II,
Central Laboratory Branch - Frankfort
Regional Laboratory Analyst: Tracy Easton, Forensic Scientist Specialist II,
Jefferson Laboratory Branch - Louisville
Police Communications Support Award
Cammie Beasley, Police Telecommunications Supervisor, Post 1-Mayfield
Deidra Mayfield, Police Telecommunicator II, Post 3-Bowling Green
Shelly Clark, Police Telecommunications Shift Supervisor, Post 5-Campbellsburg
Jeffrey Knipp, Police Telecommunicator II, Post 14 - Ashland
Maintenance Support Service Award
Stacey Littlepage, Maintenance Worker II, Post 2-Madisonville
Properties Management & Supply Technical Support Service Award
William "Bill" Rayborn, Postal Technician II, Properties Management Branch
Communications Technical Support Service Award
Brian Heise, Network Analyst III, Communications Branch-Headquarters
Computer Technology Technical Support Award
Matthew Jehnsen-Igoe, Forensic Computer Examiner I, Electronic Crime Branch
Records Technical Support Service Award
Brandon Cobb, Program Coordinator, Criminal Identification & Records Branch
Scientific Support Service Award
Jesse Gillespie, Forensic Latent Fingerprint Analyst III, Criminal Identification & Records Branch
Operational Support Award
Gary Fraser, Criminal Intelligence Analyst II, Post 1- Mayfield