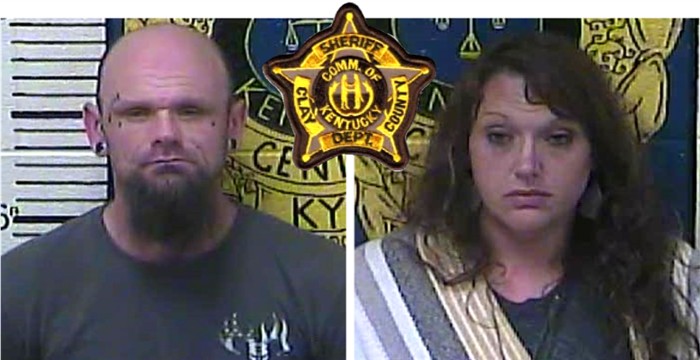 MANCHESTER, KY (May 13, 2022) - Clay County Sheriff Patrick Robinson is reporting that on Friday, May 13, 2022 at approximately 2:26 AM Clay County Sheriff K9 Deputy Wes Brumley arrested Justin Russell, 40 of Danville and Pricilla Smith, 38 of London.
The arrests occurred when Deputy Brumley attempted to conduct a traffic stop on Highway 80 when the male driver accelerated the vehicle with intent to evade Deputy Brumley. Deputy Brumley pursued the vehicle across the Hal Rogers Parkway which entered into Laurel County at which time was running approximately 120 MPH.
The subject then attempted to make a left turn on Maxine Way and lost control of vehicle at which time disabled the vehicle and ended the vehicle pursuit.
Both male and female occupants were placed under arrest without incident.
Confirmation with Clay County 911 showed the subject was wanted on two active warrants of a Probation Violation out of Fayette County and a Possession of Controlled Substance warrant out of Warren County.
The female passenger was arrested on two bench warrants.
During the search, Deputy Brumley noted finding:
Suspected Hydrocodone tablets
Fentanyl patches
Other drug paraphernalia
Justin Russell was charged with:
• Speeding 26 MPH or > Speed Limit
• Reckless Driving
• Fleeing or Evading Police, 1st Degree (Motor vehicle)
• Criminal Mischief 2nd Degree
• Operating Vehicle with Expired Operators License
• Failure to Produce Insurance Card
• Possession of Controlled Substance 1st Degree 2nd Offense (Hydrocodone)
• Possession of Controlled Substance 1st Degree 1st Offense (Drug Unspecified)
• Serving Parole Violation Warrant
• Serving Bench Warrant for Court
Pricilla Smith was charged with:
• Serving Bench Warrant for Court
• Serving Bench Warrant for Court
The photo attached is courtesy of the Clay County Detention Center.
Manchester City Police, London City Police and Laurel County Sheriff's Office assisted in the pursuit.