'I am encouraged that Congress has approved the legislation and I urge the President to quickly sign it into law'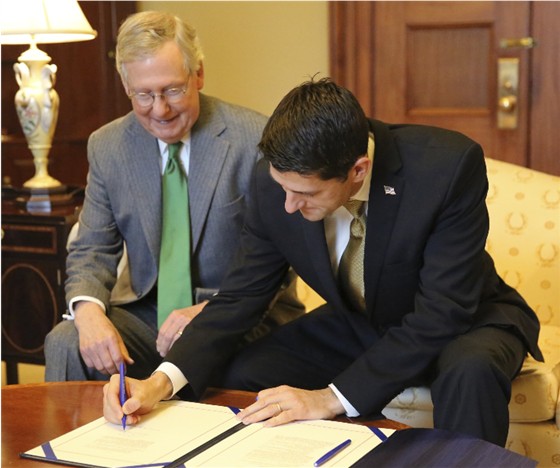 Speaker Paul Ryan signs Senator McConnell's bill, Protecting Our Infants Act, prior to sending to the President's desk.
WASHINGTON, D.C. – U.S. Senate Majority Leader Mitch McConnell and House Speaker Paul Ryan held an enrollment ceremony Wednesday for Senator McConnell's legislation to address the rise of prenatal opioid abuse and infants suffering from opioid withdrawal. The Protecting Our Infants Act was signed today by Speaker Ryan and is now being sent to the President for his signature.
The McConnell bill, cosponsored by Senator Bob Casey (D-PA), directs the Secretary of Health and Human Services (HHS) to conduct a departmental review to identify gaps in research and any duplication, overlap or gaps in prevention and treatment programs related to prenatal opioid abuse and infants born with opioid withdrawal. It also instructs the HHS Secretary to work with stakeholders to develop recommendations both for preventing prenatal opioid abuse and for treating infants born dependent on opioids. Finally, this measure encourages the director of the U.S. Centers for Disease Control and Prevention to work with states to help improve their public health response to this epidemic.
Nationwide, there has been a staggering increase in the number of infants diagnosed with newborn withdrawal since 2000. In Kentucky, that number grew by more than 4,500 percent -- from 29 infants identified as suffering from drug withdrawal annually in 2000 to more than 1,400 in 2014.
"Tragically, prescription drug abuse and heroin use has skyrocketed in Kentucky and in other states across the nation. Americans, no matter their demographic, socio-economic status, age or gender, are dying. One of the most heartbreaking aspects of this crisis is the increasing number of infants who are born dependent on opioids in the form of prescription painkillers and heroin. These infants are the most innocent among us, and for them to start off life suffering from a dependence on drugs is intolerable," Senator McConnell said. "I'm encouraged that Congress has approved the legislation and I urge the President to quickly sign it into law."